[News | Latest Version | Exe ?| What is GoodMan | Screen Shots]
LucasArts Adventure Games on Linux [ 5-November-2001 ]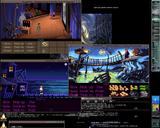 There is a good news for those of you interested in playing old adventure games from Lucas Arts on Linux. The SCUMM VM allows you to play games like Monkey Island 1, Monkey Island 2, Day of The Tentacle, Indiana Jones and The Fate of Atlantis. The SCUMM VM has pre-alpha version but you'd better use the CVS version, which is quite stable and usable.
Sarien for Amiga, MacOS X, Pocket PC and Sega DreamCast [ 02-September-2001 ]
There are very interesting ports of Sarien this weekend -- drzoltan's MacOS X port and Paul Hill's Amiga port are integrated to the main tree, Vasyl Tsvirkunov's PocketPC port is on the works and now a Sega Dreamcast port. Quite impressing!
Linux AGI Studio v1.0 has been released ! [ 27-November-2000 ]
AGI (Adventure Game Interpreter) is the adventure game engine used by Sierra On-Line(tm) to create some of their early games. Linux AGI Studio is a program which allows you to view, create and edit AGI games. Basically, it is a port of the Windows AGI Studio developed by Peter Kelly. Linux AGI Studio is covered by the Free Software Foundation's GNU Public License.
New version of FreeSCI - 0.3.0 [ 17-June-2000 ]
The FreeSCI project is an attempt to create a portable interpreter for games written for Sierra On-Line's SCI system.
Changes and improvements include, but aren't limited to:

DOS port by Rink Springer
All missing SCI0 kernel functions were added (except for some debugging functions)
Documentation updates
Lots of bug fixes

The source packages are known to build and should work on ia32/Linux, sparc/solaris and mips/IRIX (using the native cc and the experimental glx target).
The DOS sources are currently distributed separately; we will soon provide a package with merged DOS/Win32/*NIX sources. For more information visit FreeSCI official site - http://freesci.linuxgames.com/
New version of Sarien - 0.5.2 [ 13-June-2000 ]
Sarien - the Unix AGI interpreter has a new version. It can be downloaded from here
Linux AGI Studio [ 06-April-2000 ]
Finally thanks to Helen Zommer(helen@cc.huji.ac.il) there is AGI Studio for Linux. The official site of the project is http://samhain.cc.huji.ac.il/agi
AGI Example [ 03-March-2000 ]
This example is made to answer the question of Jazz5884:
"yeah, do you know how to program a guy with AGI editor to when you type climb up tree, it's says ok, and it changes the scene and shows him climbing rather than walking?".
To download it click on the link http://agi-goodman.tripod.com/download/agi-example.zip.
Note: don't use any download managers like GetRight or NetVampire.
News [ 11-Jan-2000 ]
Finally I updated "GoodMan" and you can downloaded it from here. The update includes two new rooms and one is removed. I decided to make this update because I received emails from fans who are intrested in it and because I wanted "GoodMan" to be more complete.
Now for all of you who are interested in developping AGI games: you can modify "GoodMan", distribute it, use parts of the logics, pictures and views but you must write in the "About" box of the game and in your readme file that you used parts of "GoodMan" and put a link to the official "GoodMan" site which is http://agi-goodman.tripod.com. Also in the spirit of the open source development model, it would be great to make sure that any cool new feature that you add in is available to all of the people out there. This is why if you add a good/cool feature I ask you to send it to slaff2@hotmail.com so that everybody can see the improvements that you made.
Latest versions of the game [ 11-Jan-2000 ]
Old version of the game [ 02-Dec-1998 ]
Where is the exe (or how to make this thing work)
The zip files contain only compiled game data. In order to run it you'll need an interpreter. You can get it from from the Sierra Demo Pack (here), or try the new interpreter Sarien. "Sarien is an Sierra AGI interpreter that enables you to play Sierra AGI version 2 and version 3 games, as well as AGI games written by other people. It is being written to make it easy to port it to DOS, Windows, Linux, Macintosh, Amiga, XWindows, etc with as little changes as possible. (Hopefully, as easily ported as possible). Sarien is covered by the Free Software Foundation's GNU Public License and is an open source development." For the moment GoodMan runs very poorly with Sarien but let's hope things will change. In deed it's a big fun to play old AGI games like Kings Quest 2,3 and Leisure Suit Larry 1 under Linux.
Here are simple steps to run the game
Download Sierra Demo Pack 3
Download GoodMan
Create a directory (example: c:\agi\goodman)
Unzip Sierra Demo Pack 3 in this directory
Unzip GoodMan in this directory and allow the zip program to overwrite all file it ask you.
Now run "sierra.com" .
What is GoodMan
"GoodMan" is my first attempt to make AGI games. I started the games as a simple experiment with one room but I was impressed with the scripting language and I continued fiddling with it. After two months version 3.5 was ready(the year was 1998).
Goodman is more like Space Quest games since I am a big fan of them. The story is interesting, the puzzles are easy, and the graphic is not bad (for AGI game). GoodMan is my example of what can be done nowadays with ancient game machines. I'll tell you nothing more about the game. If you'd like more download and play it.
Happy hours with the game!

Screen Shots